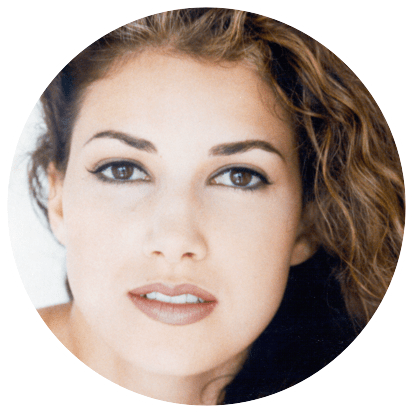 About Gabrielle
Gabrielle Rich Aouad grew up in Switzerland where she graduated from Aiglon School. She graduated with honors from Oxford University in England, earning her B.A. in philosophy and modern languages. Fluent in five languages, Gabrielle was a champion skier, an expert in horseback riding and a skilled rock mountain climber.
In the summer of 1991, she moved to New York and joined the NYU intensive film program where she met her future husband, Philip Aouad. At the tender age of 23, she was diagnosed with advanced stage Hodgkin's disease. Her strength and feistiness never failed through months of painful treatment.
Over two decades of funding
Helping to improve the efficacy of cancer treatments, reduce their toxicity and improve the quality of life of patients.
The Foundation funds innovative clinical or basic science research that will lead to novel therapeutic approaches that could replace, or be used in combination with existing effective therapies for patients with leukemia and lymphoma. Such therapeutic approaches could include alternative or complementary medicine.
Who We Fund
Gabrielle's Angel Foundation has awarded more than $37 million in research grants to the best and brightest scientists in America.


Our most recent grantees include: Dr. Andrew Inltekofer, Memorial Sloan Kettering Cancer Center; Dr. Shannon Elf, University of Chicago; Dr. Nathan Singh, Washington University St. Louis; Dr. Yibin Yang, Fox Chase Cancer Center; Dr. Brian Dalton, Johns Hopkins University; Dr. Jamie Berta Spangler, Johns Hopkins University.
Medical Advisory Board
*Janet D. Rowley, M.D., D.Sc.
*Barrie R. Cassileth, Ph.D.
Events & News
Aspen Snow Ball Kickoff Cocktail
Thank you Thomas E. Pierce II for hosting such a beautiful evening in Aspen for the Snow Ball Kickoff on January 28th! We are so grateful for your commitment to our mission and the fight against cancer. Thank you to Presenting Sponsor Chopard and to LALO Tequila, Tito's Handmade Vodka, and Ripe Life Wines for your beverage donations. Thank you to Chopard, Zegna,  Rolls-Royce Motor Cars,  Versace, Tiffany & Co., The Weber Boxer Group, and Bala for your silent auction donations. Because of Thomas and all of the wonderful attendees, over $60,000 was raised for our mission! We can't wait for the inaugural Aspen Snow Ball event next year, and we are so grateful to be the chosen beneficiary.
Announcing our Newest Class of Grantees
Clockwise from top left: Andrew Intlekofer, MSKCC; Shannon Elf*, University of Chicago, Nathan Singh, Washington University St. Louis; Yibin Yang*, Fox Chase Cancer Center; Brian Dalton, Johns Hopkins University; Jamie Berta Spangler; Johns Hopkins University *Mark Foundation for Cancer Research Fellows – these grants will be fully funded by the Mark Foundation The Foundation's Medical Advisory Board has recently selected six of the nation's top junior investigators to receive our three-year, $225,000 Medical Research Award. We are so proud to support these innovative projects and look forward to sharing updates about them throughout the year!
The Angel Ball Summer Gala 2021
The Angel Ball Summer Gala 2021 was an incredible success and raised over $2.3M for our mission! Thank you to our honorees, host, and performers for keeping our guests dancing all night long.
Fiscal responsibility
By the Numbers
We take the commitment of our donors seriously. By showing fiscal responsibility in program, administrative and fundraising costs, 88 cents of every dollar we raise directly funds the future leaders of cancer research.