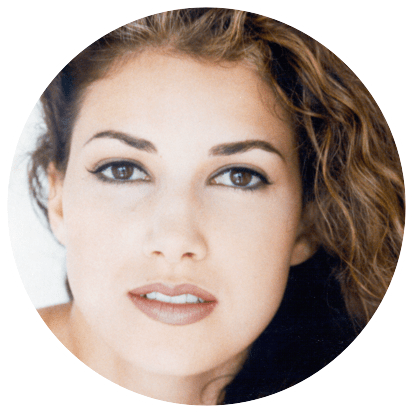 About Gabrielle
Gabrielle Rich Aouad grew up in Switzerland where she graduated from Aiglon School. She graduated with honors from Oxford University in England, earning her B.A. in philosophy and modern languages. Fluent in five languages, Gabrielle was a champion skier, an expert in horseback riding and a skilled rock mountain climber.
In the summer of 1991, she moved to New York and joined the NYU intensive film program where she met her future husband, Philip Aouad. At the tender age of 23, she was diagnosed with advanced stage Hodgkin's disease. Her strength and feistiness never failed through months of painful treatment.
Over two decades of funding
Helping to improve the efficacy of cancer treatments, reduce their toxicity and improve the quality of life of patients.
The Foundation funds innovative clinical or basic science research that will lead to novel therapeutic approaches that could replace, or be used in combination with existing effective therapies for patients with leukemia and lymphoma. Such therapeutic approaches could include alternative or complementary medicine.
Who We Fund
Awarded $35 Million Dollars in Research Grants
Medical Advisory Board
*Janet D. Rowley, M.D., D.Sc.
*Barrie R. Cassileth, Ph.D.
Fiscal responsibility
By the Numbers
We take the commitment of our donors seriously. By showing fiscal responsibility in program, administrative and fundraising costs, 92 cents of every dollar we raise directly funds the future leaders of cancer research.
Events & News
Thursday, December 3 – Saturday, December 5
Register Now for Champions for Charity!
Americana Manhasset Champions for Charity® holiday shopping benefit is December 3 - December 5, 2020. Help support our organization by doing your holiday shopping at participating Americana Manhasset and select Wheatley Plaza stores during these three days, when 25% of your designated full-price, pre-tax purchases will be donated back to us! To register for your complimentary CHAMPION NUMBER or for more information, visit championsforcharity.org or visit the Americana Manhasset Concierge storefront location. When it's time to make a purchase, simply present your CHAMPION NUMBER with any form of payment. Donations will be made on full-price merchandise only, subject to individual store policy. Your purchases are not automatically eligible. Your CHAMPION NUMBER is required to allocate your donation and must be presented at the time of each purchase. Donations on participating store gift certificates and special order merchandise are subject to individual store policy.
Virtual Disco Party Sizzle Reel
Thank you to all of the Angels who made our first ever Virtual Disco Party such a success! Please enjoy this sizzle reel sharing all of the highlights of the event. What a great night for a great cause!