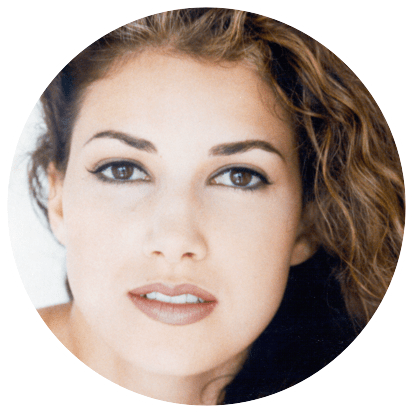 About Gabrielle
Gabrielle Rich Aouad grew up in Switzerland where she graduated from Aiglon School. She graduated with honors from Oxford University in England, earning her B.A. in philosophy and modern languages. Fluent in five languages, Gabrielle was a champion skier, an expert in horseback riding and a skilled rock mountain climber.
In the summer of 1991, she moved to New York and joined the NYU intensive film program where she met her future husband, Philip Aouad. At the tender age of 23, she was diagnosed with advanced stage Hodgkin's disease. Her strength and feistiness never failed through months of painful treatment.
Over two decades of funding
Helping to improve the efficacy of cancer treatments, reduce their toxicity and improve the quality of life of patients.
The Foundation funds innovative clinical or basic science research that will lead to novel therapeutic approaches that could replace, or be used in combination with existing effective therapies for patients with leukemia and lymphoma. Such therapeutic approaches could include alternative or complementary medicine.
Who We Fund
Awarded $35 Million Dollars in Research Grants
Medical Advisory Board
*Janet D. Rowley, M.D., D.Sc.
*Barrie R. Cassileth, Ph.D.
Fiscal responsibility
By the Numbers
We take the commitment of our donors seriously. By showing fiscal responsibility in program, administrative and fundraising costs, 92 cents of every dollar we raise directly funds the future leaders of cancer research.
Events & News
May 3, 2020
Sign up for the 2020 TD Five Boro Bike Tour with Team Gabrielle's Angels!
Sign up for a VIP charity entry for the 2020 TD Five Boro Bike Tour with Team Gabrielle's Angels and, in exchange for a $750 fundraising commitment, you'll receive: Priority start in the first wave of riders on event day, breakfast and lunch the day-of the event, exclusive Gabrielle's Angel Foundation gear, and an online fundraising page and support to help you reach your goals. This event sells out every year so joining Team Gabrielle's Angels is the best way to ensure your entry and get involved! Plus, the money you raise will go directly toward funding our mission to cure blood cancers.
October 28, 2019
We are so thrilled to announce that we raised $3 million (and counting!) for blood cancer research at Angel Ball 2019. The gala which took place at Cipriani Wall Street on October 28th, honored Amy & Brian France, Co-Owner, NASCAR, Founders, Luke & Meadow Foundation, and Marc J. Leder, Co-Chief Executive Officer, Sun Capital Partners, Inc. Special thank you to our sponsors including celebrity jeweler Lorraine Schwartz, Porsche Cars North America, Insignia, and Casa Noble Tequila. Event décor was provided by Birch Event Designs. Thank you all for your incredible support of our mission to #CureCancerNow! #AngelBall2019
November 13, 2019
On November 13-14, a large group of Gabrielle's Angels grantees, both past and present, came together in Miami to network and hear exciting research updates. The event kicked off with a welcome cocktail party onboard the Lady Joy yacht where donors were able to mingle with the researchers to hear directly about the impact of their support. On Thursday, the researchers spent the day at the Conrad Miami hearing important research updates from their peers. The group also heard a powerful speech from leukemia survivor Gisenia Reyes, who was treated at Sylvester and now runs her own non-profit. Thank you to everyone who took time out of their busy schedules to attend our 10th Annual Medical Symposium. An extra special thank you to Dr. Stephen Nimer and Sylvester Comprehensive Cancer Center for hosting us and Caris Life Sciences for sponsoring the event!