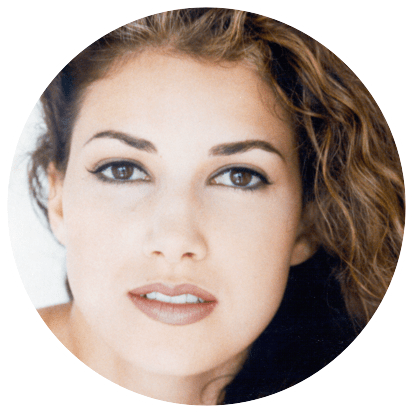 About Gabrielle
Gabrielle Rich Aouad grew up in Switzerland where she graduated from Aiglon School. She graduated with honors from Oxford University in England, earning her B.A. in philosophy and modern languages. Fluent in five languages, Gabrielle was a champion skier, an expert in horseback riding and a skilled rock mountain climber.
In the summer of 1991, she moved to New York and joined the NYU intensive film program where she met her future husband, Philip Aouad. At the tender age of 23, she was diagnosed with advanced stage Hodgkin's disease. Her strength and feistiness never failed through months of painful treatment.
20 Years of Funding
Helping to improve the efficacy of cancer treatments, reduce their toxicity and improve the quality of life of patients.
The Foundation funds innovative clinical or basic science research that will lead to novel therapeutic approaches that could replace, or be used in combination with existing effective therapies for patients with leukemia and lymphoma. Such therapeutic approaches could include alternative or complementary medicine.
Who We Fund
Awarded $35 Million Dollars in Research Grants
Medical Advisory Board
*Janet D. Rowley, M.D., D.Sc.
*Barrie R. Cassileth, Ph.D.
Fiscal responsibility
By the Numbers
We take the commitment of our donors seriously. By showing fiscal responsibility in program, administrative and fundraising costs, 92 cents of every dollar we raise directly funds the future leaders of cancer research.
Events & News
September 30, 2019
Introducing the limited edition Judith Leiber Angel Wing Bag
We are so proud to announce our partnership with Judith Leiber and to introduce the Angel Wing Bag and jewelry charms. Launching on September 30th, this stunning limited edition design will be available exclusively at JudithLeiber.com, with 10% of net proceeds benefitting Gabrielle's Angel Foundation. Thousands of crystals in a variety of shapes and sizes, including pavé and oversized teardrops, are incorporated to complement the shape of each feather in the wing, the bag also features a chain strap set with crystals for extra sparkle, epitomizing luxury and elegance. The wing charm necklace inspired by the bag is 14kt gold plated sterling silver in the 'vermeil' technique with clear cubic zirconia pave. Thank you to the wonderful Judith Leiber team for the amazing support!
April 17, 2019
Announcing our Newest Class of Grantees!
We are so thrilled to announce the eight junior investigators selected to receive our prestigious Medical Research Awards this year! These $225,000 awards are dispersed over a three year period and provide the seed funding that these talented researchers need to achieve their next big breakthrough. THANK YOU to every single one of you who have supported us this past year - these awards are a direct result of your generosity!
November 2018
On November 16th, Gabrielle's Angel Foundation research grantees from the past two decades came together for our 9th Annual Medical Symposium at 54 Below in New York City. The Medical Symposium provides a forum for the nation's leading cancer research scientists to present their work in the hematologic malignancies and encourages collaborations across institutions. In the afternoon, donors joined the session to hear from our most recent class of grantees about the latest projects funded by the Foundation. Attendees were also treated to a performance by Caly Bevier, ovarian cancer survivor and America's Got Talent finalist.