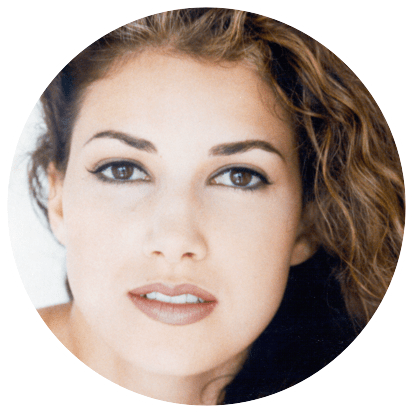 About Gabrielle
Gabrielle Rich Aouad grew up in Switzerland where she graduated from Aiglon School. She graduated with honors from Oxford University in England, earning her B.A. in philosophy and modern languages. Fluent in five languages, Gabrielle was a champion skier, an expert in horseback riding and a skilled rock mountain climber.
In the summer of 1991, she moved to New York and joined the NYU intensive film program where she met her future husband, Philip Aouad. At the tender age of 23, she was diagnosed with advanced stage Hodgkin's disease. Her strength and feistiness never failed through months of painful treatment.
Over two decades of funding
Helping to improve the efficacy of cancer treatments, reduce their toxicity and improve the quality of life of patients.
The Foundation funds innovative clinical or basic science research that will lead to novel therapeutic approaches that could replace, or be used in combination with existing effective therapies for patients with leukemia and lymphoma. Such therapeutic approaches could include alternative or complementary medicine.
Who We Fund
Gabrielle's Angel Foundation has awarded more than $41 million in research grants to the best and brightest scientists in America.


Our most recent grantees include: Dr Linde Miles of Cincinnati Children's Medical Center; Dr. Francesca Ferraro of Washington University School of Medicine; Dr. Tania Jain of Johns Hopkins University; Dr. Jerry Lio from Ohio State University; Dr. David Beck of NYU Grossman School of Medicine and Dr. Zuzana Tothova of Dana-Farber Cancer Institute
Medical Advisory Board
*Janet D. Rowley, M.D., D.Sc.
*Barrie R. Cassileth, Ph.D.
Events & News
October 23, 2023
The Angel Ball stands out as one of the highlights of the New York social season. This star-studded event honors those outstanding individuals who have made significant humanitarian and philanthropic contributions in support of cancer research.
NEWS
Gabrielle's Angel Foundation's Medical Advisory Board recently selected 6 talented early career scientists to receive Medical Research Awards for a total of $1.35M in grants! Awards are $225,000 over a three year period.
NEWS
Gabrielle's Angel Foundation for Cancer Research's Young Professionals Committee (YPC) came together on June 14th to host their Midsummer Angel Gala in support of our mission! The event raised more than $174,000.
Fiscal responsibility
By the Numbers
We take the commitment of our donors seriously. By showing fiscal responsibility in program, administrative and fundraising costs, 88 cents of every dollar we raise directly funds the future leaders of cancer research.