Announcing our newest class of grantees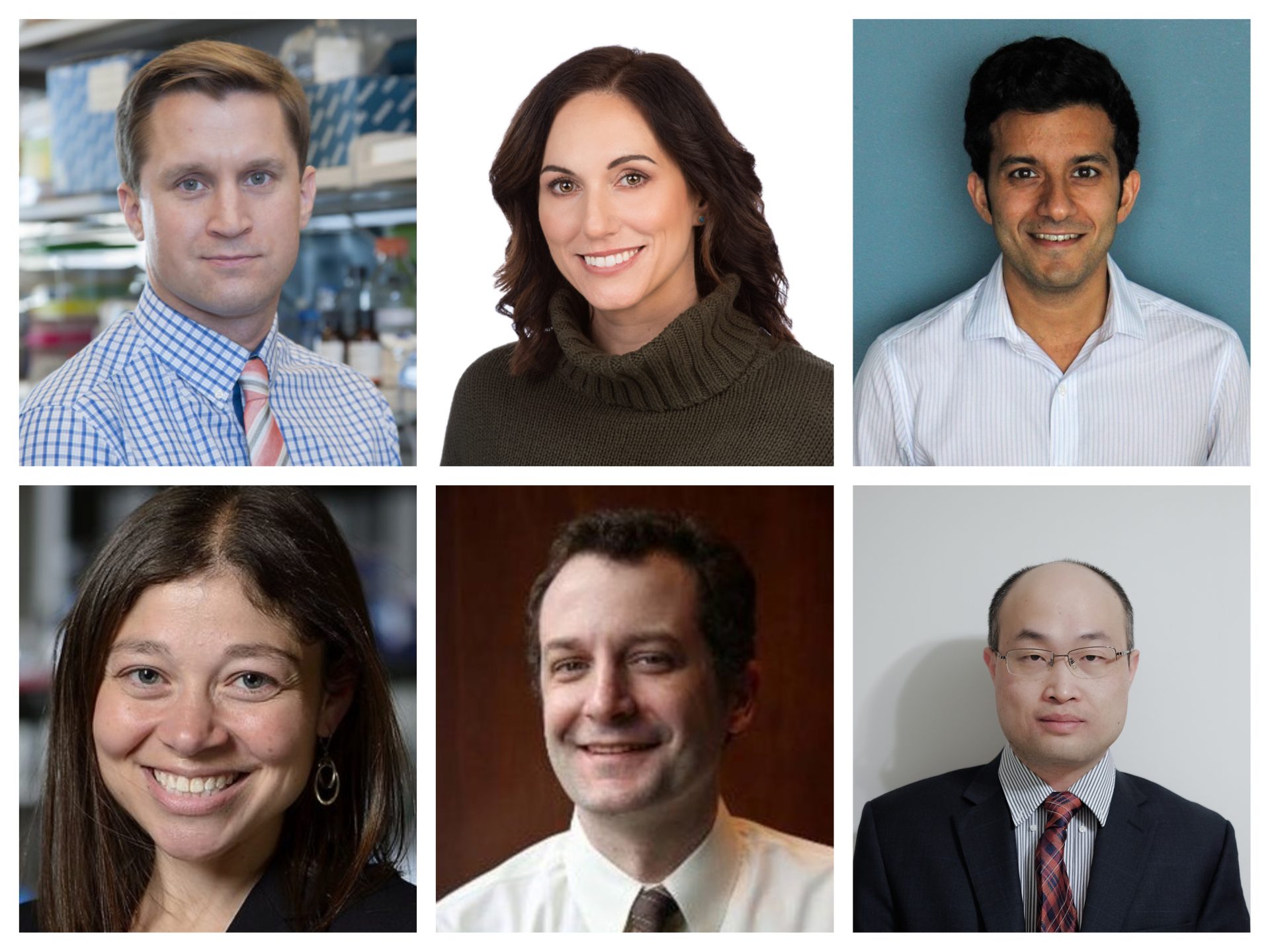 Clockwise from top left: Andrew Intlekofer, MSKCC; Shannon Elf*, University of Chicago, Nathan Singh, Washington University St. Louis; Yibin Yang*, Fox Chase Cancer Center; Brian Dalton, Johns Hopkins University; Jamie Berta Spangler; Johns Hopkins University
*Mark Foundation for Cancer Research Fellows – these grants will be fully funded by the Mark Foundation
The Foundation's Medical Advisory Board has recently selected six of the nation's top junior investigators to receive our three-year, $225,000 Medical Research Award. We are so proud to support these innovative projects and look forward to sharing updates about them throughout the year!
Grantee: Dr. Brian Dalton, MD, Johns Hopkins University
Title of Grant: Dietary Serine Modulation as a Precision Nutrition Therapy for AML
 Description: Integrative cancer treatments incorporating diet are needed. We have found that certain patients with acute myeloid leukemia may benefit from a dietary intervention affecting the amino acid serine. We propose studies to better understanding and improve upon this intervention so that it can be used to help leukemia patients.
Grantee: Dr. Jamie Spangler, Johns Hopkins University
Title of Grant:       Engineered Natural Killer Cell Therapies Targeting Acute Myeloid Leukemia
Description: Acute myeloid leukemia (AML) is a highly prevalent form of blood cancer with extremely low survival rates. Therapies that activate the patient's immune system to fight disease have been successful in many leukemias, but not AML. We will create a new immune-activating therapy that robustly and safely targets AML.
Grantee: Dr. Andrew Intlekofer, MSKCC
Title of Grant:       Elucidating and targeting IDH2 mutations in T cell lymphoma
Description: Drugs that target mutant forms of the metabolic enzyme isocitrate dehydrogenase 2 (IDH2) are a promising approach to treat some cancers. The proposed research will uncover how mutant IDH2 causes T cell lymphoma and determine whether inhibiting mutant IDH2 offers an effective way to treat this type of blood cancer.
Grantee: Dr. Nathan Singh, Washington University St. Louis
Title of Grant:       Role of co-stimulatory domains in CAR T cell dysfunction
Description: Cell-based immune therapies have demonstrated impressive success in the treatment of blood cancers, however most patients treated with available cellular immunotherapies are not cured. The goal of this proposal is to identify the molecular pathways responsible for failure of these therapies and design strategies to improve their efficacy.
Grantee: Dr. Shannon Elf, University of Chicago
Title of Grant:       Dissecting the role of the unfolded protein response in type 1 CALRmutated myelofibrosis
Description: The experiments proposed will help to answer why, among the two types of CALR mutations found in MPN patients, only one type causes myelofibrosis, the most deadly and difficult to treat disease among the three MPN types. This in turn will help us uncover new therapeutic options for CALR-mutated myelofibrosis.
Grantee: Dr. Yibin Yang, Fox Chase Cancer Center
 Title of Grant: Investigating the essential roles of Kelch-like family member KLHL11 in the pathogenesis of Anaplastic Large Cell Lymphoma and in normal T cells
Description: This project will seek to address the importance of a novel E3 ligase, KLHL11, in the pathogenesis of T cell lymphoma and in normal T cells, through a comprehensive and physiologically relevant fashion. Finishing this project will provide the foundation of targeting this enzyme as a therapeutic strategy in lymphoma.