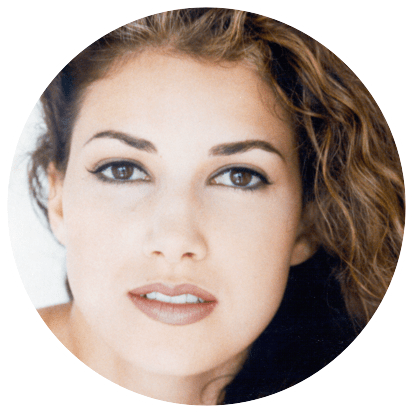 About Gabrielle
Gabrielle Rich Aouad grew up in Switzerland where she graduated from Aiglon School. She graduated with honors from Oxford University in England, earning her B.A. in philosophy and modern languages. Fluent in five languages, Gabrielle was a champion skier, an expert in horseback riding and a skilled rock mountain climber.
In the summer of 1991, she moved to New York and joined the NYU intensive film program where she met her future husband, Philip Aouad. At the tender age of 23, she was diagnosed with advanced stage Hodgkin's disease. Her strength and feistiness never failed through months of painful treatment.
Over two decades of funding
Helping to improve the efficacy of cancer treatments, reduce their toxicity and improve the quality of life of patients.
The Foundation funds innovative clinical or basic science research that will lead to novel therapeutic approaches that could replace, or be used in combination with existing effective therapies for patients with leukemia and lymphoma. Such therapeutic approaches could include alternative or complementary medicine.
Who We Fund
Gabrielle's Angel Foundation has awarded more than $41 million in research grants to the best and brightest scientists in America.


Our most recent grantees include: Dr Linde Miles of Cincinnati Children's Medical Center; Dr. Francesca Ferraro of Washington University School of Medicine; Dr. Tania Jain of Johns Hopkins University; Dr. Jerry Lio from Ohio State University; Dr. David Beck of NYU Grossman School of Medicine and Dr. Zuzana Tothova of Dana-Farber Cancer Institute
Medical Advisory Board
*Janet D. Rowley, M.D., D.Sc.
*Barrie R. Cassileth, Ph.D.
Events & News
October 23, 2023
Gabrielle's Angel Foundation for Cancer Research raised more than $3 million at Angel Ball on October 23rd at Cipriani Wall Street, hosted by co-founders, songwriter Denise Rich and her daughters Daniella Rich Kilstock and Ilona Rich Schachter. The star-studded event, known for its amazing live entertainment and celebrity participants, honors outstanding individuals who have made significant humanitarian and philanthropic contributions in support of cancer research. This year, the Angel Ball honored Hospitality Entrepreneur, Richie Akiva; Monique Rodriguez, Founder and CEO of Mielle Organics and Founder of Mielle Cares and Elizabeth Elting, Founder and CEO of The Elizabeth Elting Foundation. The evening's honorary chairs were Marc J. Leder, Amy & Brian France and Warren Lichtenstein. Guests at the black-tie fête, Hosted by Emmy-Award winning TV Host, Journalist and Author Tamron Hall were treated to special live performances by Mary J. Blige, Robin Thicke, Chloe Jane and Miri Ben-Ari. Later that evening, guests danced the night away to music by Jermaine Dupri. Other notable guests included:Bobby Shmurda, Candace Bushnell, Clive Davis, Dennis Basso, Dylan Penn, Eric Bergen, G-Eazy, Emilia Fazzalari, Gretta Monahan, Julia Chatterley, Keni Silva, Lexi Wood, Leonardo DiCaprio, Luann de Lesseps, Michael Bolton & Heather Kerzner, Mayor Eric Adams, Monte Lippman, Nicole Miller, Candace Bushnell, Brian Stokes Mitchell, Montego Glover, Myles Frost, Dee & Tommy Hilfiger, Tina Knowles, Tobey Maquire, Tyrod Taylor and Ubah Hassan. Click through for the full event recap!
Champions for Charity 11/30 - 12/2
THURSDAY, NOVEMBER 30 through SATURDAY, DECEMBER 2 During the 3-day shopping event, be sure to present your CHAMPION NUMBER when making purchases and 25% of your full-price pre-tax purchase amount will be calculated and submitted to your pre-selected organization(s). Donations will be made on full-price merchandise only and some product exclusions may apply, subject to individual store policy. Returns or exchanges made on merchandise purchased towards Champions for Charity® are subject to individual store policy. Participating store gift certificates and special order merchandise are subject to individual store policy. Some product exclusions apply. Americana Manhasset GiftCards and American Express® gift cards purchased during Champions for Charity® are not eligible for a donation. Over the last 28 years, with the participation of over 70 Americana Manhasset and Wheatley Plaza stores and Champions like you, Champions for Charity® raised close to 18 million dollars in support of over 100 participating not-for-profit organizations.
NEWS
Gabrielle's Angel Foundation's Medical Advisory Board recently selected 6 talented early career scientists to receive Medical Research Awards for a total of $1.35M in grants! Awards are $225,000 over a three year period.
Fiscal responsibility
By the Numbers
We take the commitment of our donors seriously. By showing fiscal responsibility in program, administrative and fundraising costs, 88 cents of every dollar we raise directly funds the future leaders of cancer research.